JP-5 in aircraft carrier Navy

Background
JP-5 is a high flash point kerosine (meeting) complying with the requirements of the U.S. Navy, this is primarily jet fuel for use in aircraft carriers. NATO Code F-44.
JP-5 and JP-8 (stand for jet Propellants are substances that move other objects or give thrust). They are used by the military as aircraft fuels. JP-5 is the U.S. Navy's primary jet fuel, and JP-8 is one of the jet fuels used by the U.S. Air Force.
Both JP-5 and JP-8 are colorless liquids and smell like kerosene, flammable and toxic for human. JP-5 and JP-8 can be made from refining crude petroleum oil deposits found underground and under the ocean floor. They can also be made from shale oil found in rock.
Technical data
• JP-5 (Kerosene)

• Ambiant

• Atmospheric

• Marine type approvals
Challenges
• Very aggressive media

• Security first priority onboard

• Military grade ship
Solution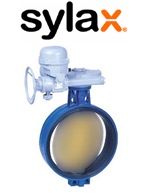 The solution was found with the Sylax butterfly valves adapted with Lug type body, ATEX GGG40, Nitrile liner, and Alubronze disc coated with thermic treatment Epoxy. Grade 3.2 Lloyds certification.
Sylax one piece Shaft allows a self positioning of the disc witch insure a perfect shut off and improve the security.
Socla expertise and good customer relation management helped to build a specific solution and design a specific coating based on standard products. Thus guarantying an economic solution and an easy backup on the valve maintenance.
Key points
Expertise

Adapted product

5 years warranty

Marine approvals
Approval