Valves in RSW system

Background
Today's fishing industry grows more competitive with every catch. Distances become greater. Quality demands increase. To not only survive, but to maximize profits, it is essential to utilize the best technology and finest equipment available. Whether it is a small boat or a large fishing vessel, refrigeration is essential for delivering top-quality products and receiving premium prices from today's demanding seafood buyers. RSW, or refrigerated sea water is a relatively new technology to the commercial fishing fleet.
In simple terms, a RSW-system functions as follows : Seawater is recirculated by pump through the tanks (therefore product) and the chilling system. The seawater is chilled by the refrigeration machinery before it enters the tanks through a set of perforated plates or similar distribution devices. The chilled seawater passes upwards through the tank and layers of fish, thus keeping the fish semi-floating (in suspense) and at the same time cooling it.
The water circulating system is arranged as such that the flow can be reversed by the operating certain valves in the main water distribution manifold.
Technical data
• Marine environment (sea water)

• Marine approvals

• Cannot stop a fishing campaign

• Each valve must be recognize easily

• Delivery time

• Range of product lifetime for maintenance possibility

• Limited encumbrance on ship

• Temperature 3°C Pressure 5 bars
Solution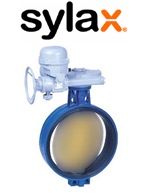 The solution was found with the Sylax range of butterfly valve, with GG25 & GGG40 body, EPDM and NBR liners and Alubronze Disc.
The double tightness sealing ensure a perfect security and longevity of the valve.
The double bushes guiding the shaft prevent from any damages to the valve and guaranty a good pipe sealing thus allowing a intensive use and a good resilience during the fishing campaign.
Socla's network is present al across the world, providing goods and maintenance support.
Key points
Safe sealing

One piece shaft

5 years warranty

Individual valve tag

Easy maintenance

Limited torques

Worldwide sales network

Quick deliveries